Jagdterriers from

Knite Hunt Kennel

Jagdterriers from

Knite Hunt Kennel




(above pictures of Suzy working a blood track at a early age)

10/08/07

Hello Sharon & Jack,

   We just returned from Colorado. Was out in the mountains all summer and enjoyed it very much. Suzy is coming along fine. She was able to record her first find while in Colorado. A fellow (bowhunter) took a long shot at a very nice muley buck. He didn't know where he had hit it but was able to find only one drop of blood on a log. He came and got me and Suzy about 9PM. After arriving at the shot site I was trying to get Suzy to smell the spot of blood on the log. She kept pulling away wanting to track. Well to make a story short, she made a very fast track

lasting only about 5 or 6 minutes finding the deer about 350 yards away in some very thick brush. She never lost the track, not once, and was pulling hard the whole way. I have a pic of  her and the deer but my scanner is on the blink.

  I had another call from a guy that had looked almost all day for a big muley with several friends. They had been able to track it about 3 or 4 hundred yards before losing blood. It was a very warm and dry day and after over 8 hours I didn't have much in confidence finding it. Suzy was able to take the track about another 300 yards then she lost it. I finally unsnapped her so she could cover more ground. She disapeared into a draw and didn't come out. Unable to find her I climbed back up on top and was able to call her out. We gave up at that point and went

home. Well guess what, another hunter was in that same draw a few days later and discovered the deer. It had been eaten by coyotes or bears. I'm thinking Suzy had found the deer but never barked so we were unable to locate her.

  Suzy comes in the house every night and spends time with me watching TV and then sleeps beside our bed. She is lying on my lap as I type this. She has an abundance of energy but is very bidable around the house. She weighs close to 12 pounds now and is about as big as she will get. We are very attached to her and I just know she is going to be a great bloodtrailer.

Bill Kissner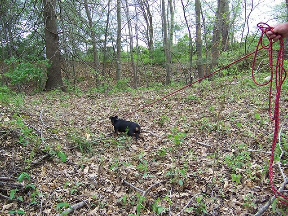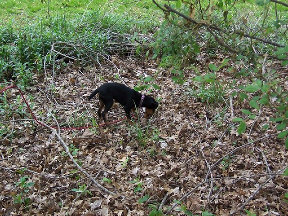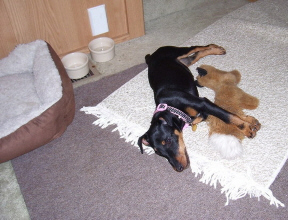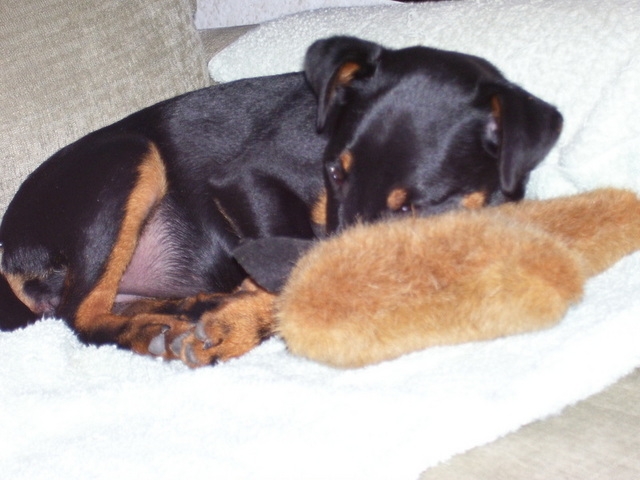 Update: 09/19/08

Just wanted to let you know about Suzy so far this fall. She has been on 5 tracks so far. First was a very nice muley buck. This track was particulately difficult as there was blood for only the first 50 yards or so, then nothing. She lost the track after 125 yards, then picked it up again and went another 175 yards to the buck.

Next was a bull elk that the bowhunter admitted hitting it in the shoulder blade. After several attempts we had to give up on this one.

Third was a cow elk that was shot at dusk. The bowhunter said he thought the hit was good but penetration was minimal with only a few drops of blood found on a small log. Suzy immediately picked up the track and after about 100 yards, she jumped over a log that had a few more drops of blood on it. This confirmed she was on the right track. Another 100 yards and we were in some of the thickest stuff you can imagine. She lost the track momentarily but picked it up again and pulled hard another 125 yards to a very dead elk! This stuff was so thick, we were within a few feet of the animal before we could see it. The bowhunter was about the happiest guy ever. He was amazed at what he had just witnessed.

The last two tracks were practice tracks as the animals were only a short distance from the shot.

"Suzy v.d. Jones KniteHunt" a Shasta and Dacks female