Mark Maggos wrote: I shot the deer the Fri. evening at 5:00p.m. -44mag with 300gr. softpt Corbon load. My son and I found hair and blood at site but lost it after 50yds.

Brought 14wk. old Sako out next morning and put her on her first real trail. The trail was obvious in daylight but she was fun to watch. She immediately took off on the correct trail.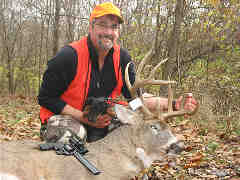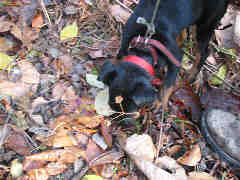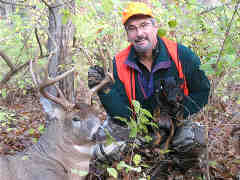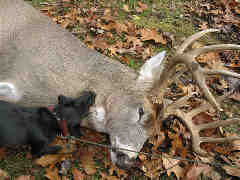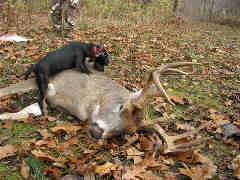 The trail wound through a thick honesuckle thicket but she trucked right up the hill never slowing down. When we got to the first wound bed, she circled to pick up the exit trail. She found it and walked 5yds to the dead buck. She didn't know what it was but was sure happy to chew on it. After field dressing and giving her a piece of heart she was all over the deer. Had to tie her up to quarter it and take pictures.

"Sako v.d. Jones KniteHunt" a Remi and Dacks Female