My newest dog "Nitro" is doing great. He's already caught 3 hogs (little ones)  and that was during last season before he was even one year old. This season he tracked a three day old blood trail for over 2 miles to a recovery on a deer for one of our youngster hunters here in my area. He is coming along just like his cousin Kubi may he RIP.

I sure miss Kubi not only was he a great hunter he was a great companion as well.

Here is a picture of Nitro last October with his blood tracking find. The guy in the picture is the boys dad. They were a serious pair of happy dudes that day.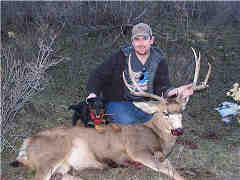 "Nitro v.d. Jones KniteHunt" a Heidi and Mo-Jo Man male